Air-In-Line (AIL)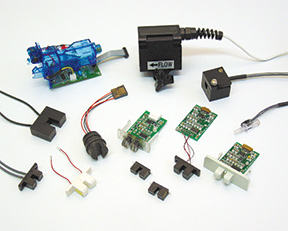 With over 20 years of experience with Air-In-Line (AIL) technology, Piezo Technologies is truly one of the industry's pioneers.
We are the premier designer and manufacturer of ultrasonic AIL detectors for the medical infusion industry, and we also serve the general fluid dispensing market.
Our industry-leading piezoelectric ceramics, combined with our renowned transducer engineering is what makes our AIL solutions the best available. From prototype development to final production runs, everything is done in-house, insuring that we exceed customer expectations in quality, performance, reliability, delivery, and price.
Piezo Technologies' Air-In-Line Solutions Offer Many Advantages
High sensitivity for detecting bubble size and air volume over time
Able to ignore stationary air bubbles
Provide upstream and downstream occlusion detection
Ability to identify non-specified tubing installation and prevent pump from operating – ACOUSTIKEY™
Rapid response time
Ability to operate in ambient and high-temp environments
Over 15 years of experience in providing reliable AIL solutions
Transducer set and/or transmit/receive electronics available for OEM use
Standard package and custom design capabilities
Enhanced contact technology to hold tubing in place better and improve AIL efficiency
Contact us to learn more about how this technology can enhance the performance of your current AIL equipment, or how it can be used to create your next generation products.
Learn more about Piezo Technologies' Air Detection Sensor – Download Data Sheet