Ultrasonic Contact Transducers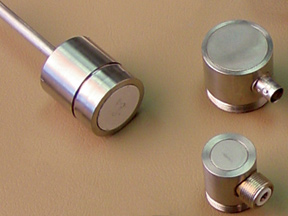 Piezo Technologies' Ultrasonic Contact Transducers are designed for general purpose flaw detection and thickness gauging of metals, plastics, ceramics, elastomers, and composites. Contact NDT transducers can also be used for fluid level gauging from outside the tank.
Piezo Technologies' Ultrasonic Contact Transducers can be developed in longitudinal and normal incident shear; and low, medium, and high damping for most models. A NDT contact transducer is normally supplied with a wearface, but when specified, Piezo Technologies will acoustically optimize contact transducers for their intended application.
Contact transducers are compatible with most commercial flaw detectors and thickness gauges. A Piezo Technologies ultrasonic contact transducer can be developed with axial or right angle BNC, Microdot, Lemo, UHF, or TNC connectors or potted cable. Housings are stainless steel. Other frequencies and sizes that are not listed in the table may also be available.
Piezo Technologies develops and manufactures semi-custom, modular, and pure custom (no off-the-shelf) ultrasonic transducer products. Our vast database of past projects provides a base for developing many new products as semi-custom or modular devices. This reduces both cost and turnaround time, while still providing a high quality, unique product. We also specialize in developing pure custom devices. Our technical experts are available to discuss your application and recommend an ultrasonic transducer product that will satisfy your specific requirements. To expedite your inquiry, please fill out our Request Quote Form.
All of our finished products can be provided with the specific cabling and adapters you request. Just include your requirements on the Request Quote Form or when ordering the product.