High Power Transducers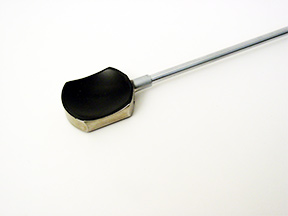 Piezo Technologies offers high power, custom-designed ultrasonic transducers for many industries, including:
Medical
Cleaning
Process Control
Liquid Dispensing
Distance Ranging
Gas Flow Measurement
Wide range of applications include:
Ultrasonic Cleaners
Flow Measurement
Distance Ranging
Drop-on-Demand Jetting
Continuous Droplet Jetting
Atomization of Liquids
Nebulization of Liquids
Particle Separation
Particle Sizing
Cell Disruption
Stirring
Insonifying
Shaking
Welding
Underwater Projectors
Other areas of use (that can include separate imaging assemblies) include:
Medical therapy transducers for tissue and fracture healing
Hypothermia treatment
State-of-the-art High Intensity Focused Ultrasound (HIFU) Transducers for non-invasive surgery and tissue ablation – available in single- and multi-element designs
Piezo Technologies High Power Ultrasonic Transducers can be developed in frequencies from <20KHz to 20MHz, sizes from < ½ inch (13mm) to >8 inch (200mm) diameter, and operating temperatures to >500° F (260° C).
Piezo Technologies uses its extensive knowledge in materials and processes to develop the highest quality custom High Power Ultrasonic Transducers.
Piezo Technologies develops and manufactures semi-custom, modular, and pure custom (no off-the-shelf) ultrasonic transducer products. Our vast database of past projects provides a base for developing many new products as semi-custom or modular devices. This reduces both cost and turnaround time, while still providing a high quality, unique product. We also specialize in developing pure custom devices. Our technical experts are available to discuss your application and recommend an ultrasonic transducer product that will satisfy your specific requirements. To expedite your inquiry, please fill out our Request Quote Form.
All of our finished custom products can be provided with the specific cabling and adapters you request. Just include your requirements on the Request Quote Form or when ordering the product.